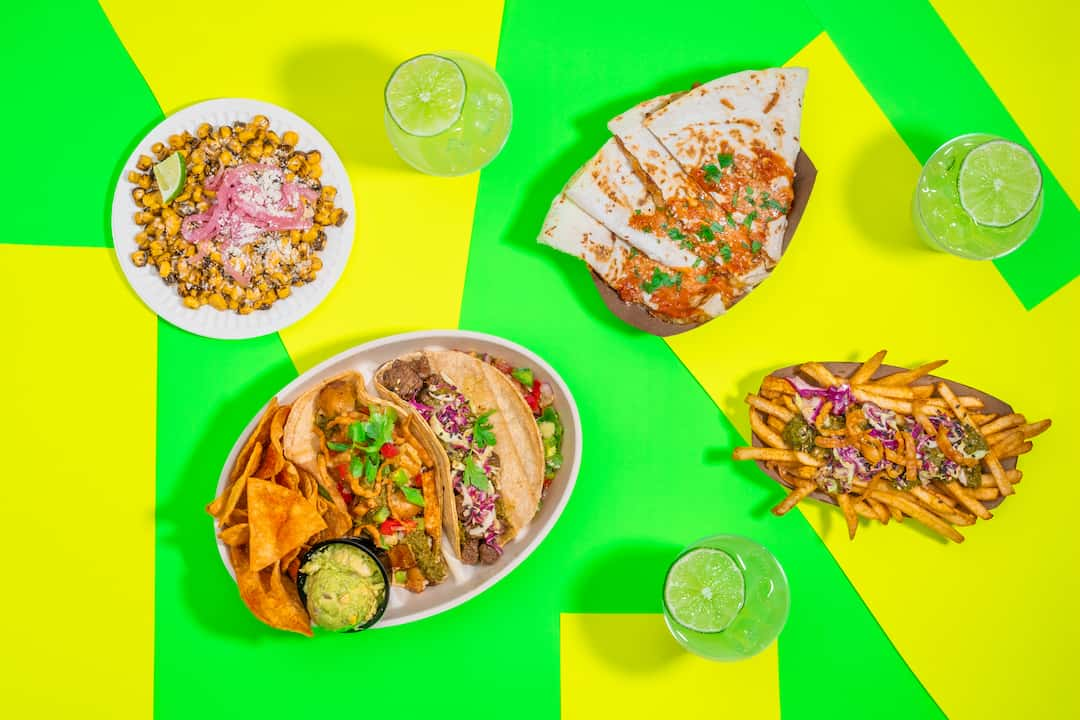 Cali-Mex spread
Cali-Mex: Where Cali Vibes Meet the Spicy Flavors of Mexico
Hold onto your taste buds, folks! We're about to dive headfirst into the mouthwatering world of Cali-Mex cuisine. This sizzling culinary fusion combines the sun-kissed vibes of California with the bold and spicy flavors of Mexican cuisine. Get ready to embark on a flavor journey that'll make your taste buds do the Cha-Cha Slide (remember that one?)! Join us as we explore the unique and irresistible charms of Cali-Mex, and discover why The Lime Truck is the go-to choice for Cali-Mex food truck catering that'll spice up your next event!
The Cali Freshness: A West Coast Twist
Cali-Mex cuisine is all about embracing the freshness and abundance of California's culinary landscape. Think locally sourced ingredients, crisp vegetables, and an explosion of flavors that'll transport you straight to the beaches of So-Cal. With a dash of California coolness, Cali-Mex takes traditional Mexican dishes and gives them a fresh West Coast twist that transcends borders.
Tacos, Burritos, and Beyond: California Dreamin' in Every Bite
Prepare your taste buds to ride the wave of flavors! In Cali-Mex cuisine, tacos become flavor-packed wonders with a fusion of grilled proteins, zesty salsas, and tantalizing toppings. Sink your teeth into a fish taco bursting with freshness or indulge in a loaded burrito stuffed with juicy carne asada and all the fixings. The Lime Truck knows how to capture the essence of Cali-Mex in every mouthwatering bite!
Create Your Cali-Mex Masterpiece
At the Lime Truck, we believe in culinary freedom! With our build-your-own Cali-Mex options, you become the architect of your flavor adventure. Choose your protein, load up on fresh veggies, and drizzle on our signature sauces to create a Cali-Mex masterpiece that suits your taste buds. It's a customizable fiesta where you're in control, and the flavors are only limited by your imagination.
Fresh, Bold, and Totally Instagrammable
Cali-Mex cuisine is the epitome of vibrant and bold flavors that are as pleasing to the eyes as they are to the taste buds. From the colorful array of fresh produce to the fiery hues of spicy salsa, every dish is an instagram-worthy work of art. The Lime Truck's commitment to using the freshest ingredients ensures that your Cali-Mex experience is a feast for both the eyes and the palate. Get ready to snap some drool-worthy food pics!
Conclusion
Cali-Mex cuisine is a delightful marriage of California's laid-back vibes with the sizzling flavors of Mexican cuisine. It's a flavor explosion that brings together the freshness of the West Coast and the spicy charm of Mexico. When it comes to Cali-Mex food truck catering, The Lime Truck is your ultimate partner in flavor. So, whether you're hosting a birthday bash, a corporate fiesta, or any other celebration, let The Lime Truck turn it into a Cali-Mex extravaganza that'll leave your guests begging for more. Book the Lime Truck Today and let the Cali-Mex feast begin!