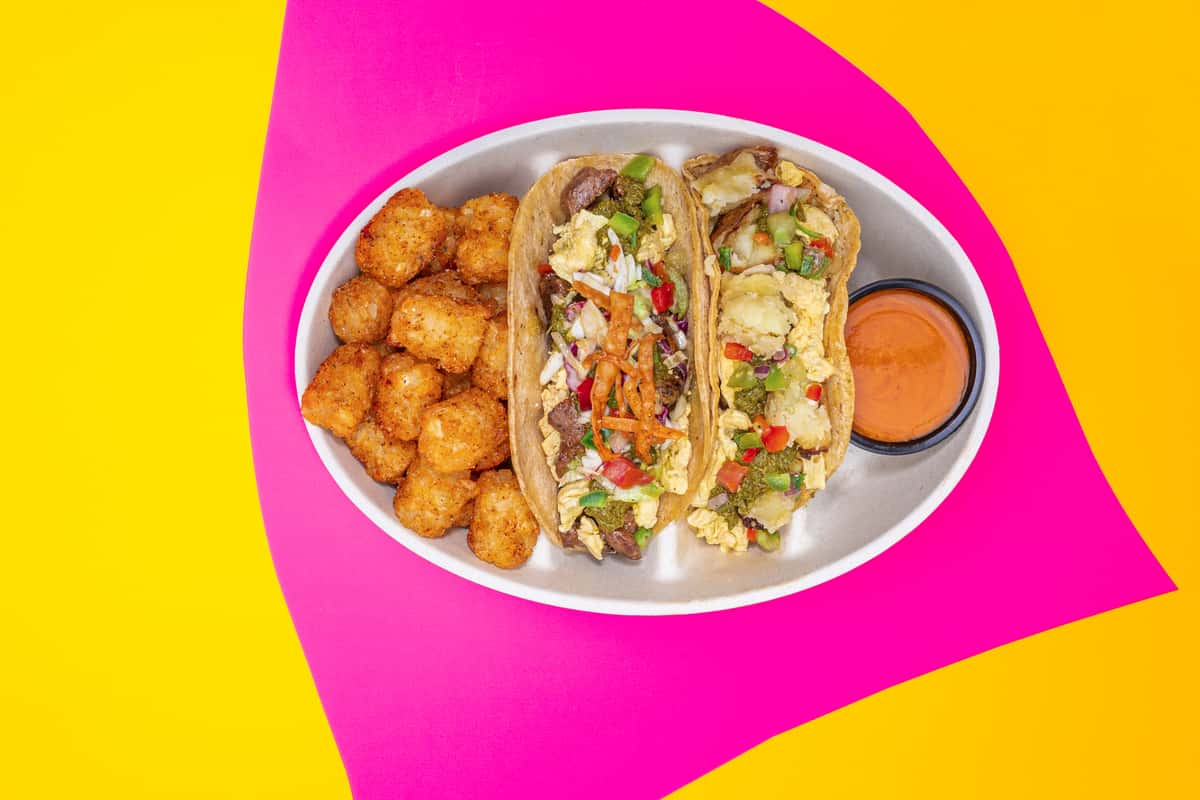 Breakfast plate
Bye-Bye Boring Bagels: Top Breakfast Catering Trends
Wake up and smell what The Lime Truck is cookin'! Get ready to flip your pancake-loving expectations upside down as we dive into the tantalizing trends that are flipping the script on your morning munchies. From taco transformations to brunch bonanzas, let's explore the wild world of modern breakfast catering that's more fun than a life-sized house made of waffles.
Taco Takeover!
Breakfast tacos are strutting their stuff, proving they're not just for the lunch bunch. Imagine a wild fusion of steak and eggs shimmying with cilantro chimichurri, crispy wontons, and sesame seeds in a warm tortilla. It's like a breakfast fiesta you never knew you needed!
Burrito Bonanza
Your classic breakfast burrito just got a gourmet makeover. Behold the Epic Breakfast Burrito, uniting your favorite protein pals like eggs and braised carnitas with crispy tots, tomatillo pico de gallo, zesty guacamole, and chipotle honey aioli for a taste bud party that'll have you dancing like nobody's watching!
Brunch Vibes
Breakfast and brunch collide in a flavor-packed explosion that'll make your taste buds tango. Meet the Breakfast Quesadilla, a flavorful double agent that's playing both sides of the field. Is it lunch? Is it breakfast? It's brunch! And it kicks ass! …covertly.
Your Breakfast, Your Way
It's a new day full of new opportunities! Personalized catering packages let you call the shots. Mix and match like a breakfast DJ and curate your perfect morning meal. Who says mornings can't be all about you?
Flipping the Script: Elevate Your Breakfast Game
In a world where breakfast is breaking free from the ordinary, these trends are the front-runners of flavor. Say goodbye to breakfast monotony and hello to a symphony of taste. Whether you're throwing a corporate shindig, tying the knot, or just throwing a brunch bash, these trends will make your breakfast spread the talk of the town.
Ready to dive headfirst into this breakfast bonanza? Whether you're a seasoned event planner or a brunch enthusiast, embracing these trends will make your event the hottest ticket in town. Find a caterer that's got their finger on the pulse of these breakfast trends and get ready for a morning feast that'll have everyone craving more!